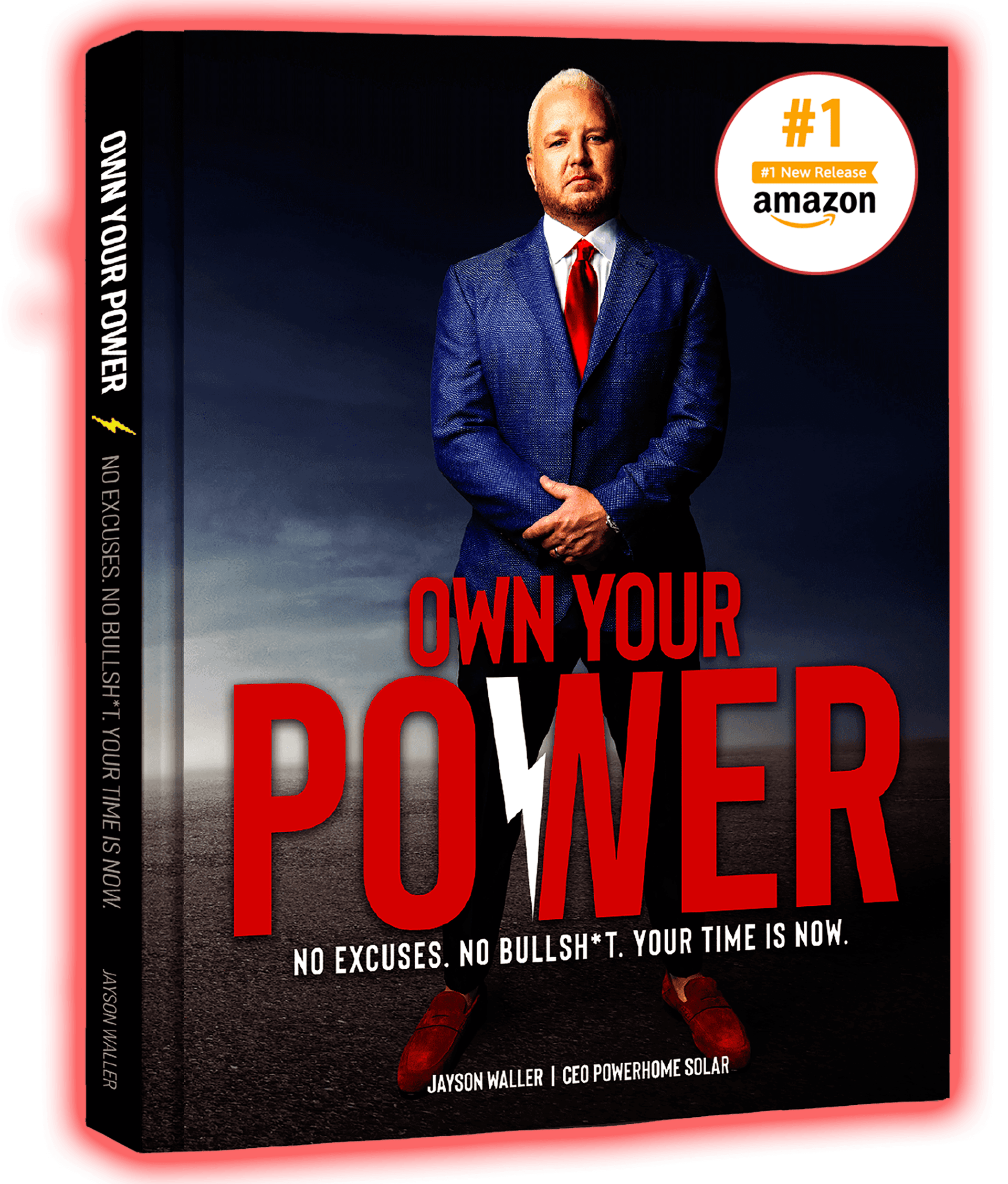 OWN YOUR POWER
No Excuses. No Bullsh*t. The Time is Now.
WHAT THE GREATEST LEADERS ARE SAYING
ABOUT JAYSON WALLER…
"Own Your Power is the ultimate, step-by-step guide for learning how to live a 'no excuses' life and fulfilling your destiny for becoming PRECISELY who you were meant and made to be. Don't just read this book from cover to cover—implement what you learn. It will massively impact the trajectory of your life and your business."
-STEVE OLSHER
Founder and Editor-In-Chief of Podcast Magazine and New York Times bestselling author of What Is Your WHAT?
"When I'm in a room with Jayson there is an energy like none other! He has a passion about him that is infectious and just overall uplifting in a way that makes you want to strive for more! Not only is he one of the most driven people I know, Jayson is also one of the most genuine, caring, and truly loving souls I have ever met! I know this book will motivate you."
-DAVID NURSE
NBA Life Optimization Coach
"If you're an entrepreneur looking to infuse yourself and your business with energy and expertise, look no further than Jayson Waller's newest book. With his combination of passion and purpose, his insights are sure to take your business to the next level."
-DAVID MELTZER
Legendary sports executive, bestselling author, and top business coach
"Jayson's tell-it-like-it-is, no-nonsense approach is the kick in the pants you need and get in Own Your Power. Not only does he lay out practical steps to achieve your goals, but he does it in a relatable and encouraging way. This book is a must-read for anyone that wants to make it to the top!"
-HEATHER MONAHAN
Top 40 keynote speaker and bestselling author
"Jayson Waller is an example to every entrepreneur. His success is a combination of passion, hard work, and identifying and exploiting opportunities like no one else in his business. This book offers great insight as to his methods to achieve success—The Underdog Way."
-DAN LOK
King of Closing and Chairman of DragonX Capital
"Own Your Power is a rags-to-riches story, but it is much more than that. It epitomizes what we were all taught about working hard to achieve our dreams. Jayson grew up with little. He doesn't whine or complain about it; he embraces it. Through hard work and perseverance, Jayson has built incredibly successful companies. This book is Jayson's successful American story of how he changed the world. By taking the stairs instead of the elevator, we can change the world just as Jayson has done."
-DR. DAVID BROWNSTEIN
OWN YOUR POWER
No Excuses. No Bullsh*t. The Time is Now.
Did you grow up poor? Don't have the right connections? The right education? The right trauma-free childhood? Any other excuses?
Jayson Waller grew up poor, with an abusive childhood. He had no education and was a father in his teens. Today, he's the founder and CEO of a billion-dollar enterprise and has a top 3 podcast called BAM. In Own Your Power, he'll challenge you to disrupt your self-limiting ideas and start believing in your wildest dreams.
Through the eight principles that drive his success, you'll learn how to overcome your mindset barriers and live life on your own terms. Discover the secrets to working step-by-step, honestly and without fear, to claim the life you want—no matter where you came from, and no matter how far you want to go.
If you feel like you don't have what you need or what it takes, Own Your Power will show you, in no uncertain terms: you do.
Your Underdog Playbook: Eight Principles for a No Excuses Life
There's No Elevator in Life—You've Gotta Take the Stairs
Scared Money Don't Make Money:
To Be a World Champ, Focus on the Play-by-Play